"At this moment, as the world suffers a pandemic and the grief of a new war, it gives us great hope to witness the gift of this beautiful mural." With these words Xiomara Quiros from the Sports and Recreation Committee of San Jose began the dedication ceremony for a 80 foot long by 15 foot tall mural painted by a group of Pennsylvania artists on the wall lining the soccer plaza in the neighborhood in Hatillo, Costa Rica.
The project was conceived and coordinated by Pamela Synder- Etters, the founder of Murals Talk, (https://www.muralstalk.com/ ) a non-profit organization which uses mural construction as a way to build bridges over cultural, social and economic gaps for kids. It took her team four trips to Costa Rica, 250 pounds of materials, numerous donations, dozens of suitcases laden with ceramic, and over 300 hours of labor to complete the mural.
Ms. Snyder involved the children from the nearby public elementary school in the original ideas that became the mural design and then invited them to put their painted handprints on the mural as a finishing touch. "The purpose of the mural is to inspire the children to believe in their potential and to dream about their future, " said Ms. Snyder.
The story of the mural goes back several years. Besides being a mural artist, Ms. Snyder is also the Head Coach for the women's soccer team for Penn State Altoona University. She first traveled to Costa Rica in 2009 with her women's team on a soccer tour and they painted a small mural at that time. Costa Rica Soccer Tours organized the team soccer tour to Costa Rica where they played three international matches against top Costa Rican teams while visiting the rainforest, city, and the beaches. She loved it so much that she returned again with her college team in 2014 and 2019. "I fell in love with Costa Rica, " she said. "My trips to Costa Rica and friendships here have given me so much light, and life, and inspiration that I wanted to show them my appreciation for everything that I've been given and try to give back something special."
So, in 2019, she flew down to Costa Rica, visited schools and looked at many different potential walls for the mural, finally deciding on the one that would become the 80 foot long mural they have now titled "Believe." Costa Rica Soccer Tours partnered with her to assist her in choosing a location in an underserved neighborhood, obtaining the permissions, and handling the logistics of carrying out the artwork.
Ms. Snyder and her team began by visiting the elementary school, Escuela Pacífica Fernández, located adjacent to the mural wall and interviewing the students there about their dreams. "Our objective is for them to envision a better future for themselves and then identify ways that are within their control that can help get them there." she said. They then incorporated those ideas into the mural design. For that reason, the mural contains victorious soccer players, a home in the rural farmland of Costa Rica, the tropical biodiversity of flowers and a frog, a boy learning in the city, and the nighttime constellations that represent the children's admiration for the Costa Rican astronaut, Franklin Chang. When asked what the most important key for a better future was, the children responded, "education and staying in school" so there is a circle of children reading in the middle of the mural. The mural also includes both the U.S. and Costa Rican flags.
Butterflies play an important role in the mural. "Butterflies are all different colors and sizes and they are all beautiful regardless, " said Ms. Snyder. "Butterflies represent beauty and diversity. They also represent transformation." Ms. Snyder partnered with a Pennsylvania mosaic artist, Anju Jolly, who created 20 three-dimensional mosaic glass butterflies that are now attached within the mural. "Many artists donated the glass and then it took me about 7-10 days to create each butterfly in my studio." Since most of the butterflies are at least one to two feet in diameter, she had to disassemble them in order to pack them into suitcases to bring them down to Costa Rica. Ms. Jolly shared with us the experience of the children when they came to see the completed mural.
"I don't speak Spanish and the children didn't speak English but we connected immediately. I kept saying "welcome" and I know they knew what I was saying. They all wanted to touch the butterflies. When a child comes to a work of art and says "what is that? I want to touch it" then the mural has done its job. We are connected forever. That's why we were here- to connect with all of these kids. To help them remember what they can do when they grow up."
Mural location on the soccer plaza, Hatillo, Costa Rica
The painting of the mural took the collaboration of dozens of people. The mural is painted on polytab, a waterproof non-woven fabric. It allowed Ms. Snyder and her team to paint most of the mural in Pennsylvania on the polytab and then roll it up in scrolls and transport it to Costa Rica. The painting was created in part by children in Costa Rica who contributed to the painting during the first few trips. They also worked with elementary and high school students in Pennsylvania to paint pieces of the mural. Ms. Snyder explained the process of transporting them to Costa Rica. "Once we were done, I folded the 12 foot tall by 5 foot wide panels in half and then stacked them and rolled them and I put them into a giant hiking backpack and I carried it with me on the plane because I refused to check it. I didn't want to lose it."
We brought about 15 gallons of mural glue and clear coat and other materials– about 250 pounds total that we brought to Costa Rica to do this project. We even had a special meeting with TSA Travel Security to explain what we were doing. The weight was so much that it broke the wheels on my suitcase, " she laughed.
Ms. Snyder says she has been able to connect with both the Costa Rican and US communities through the mural project. Not only did she use the conversations with the children to create the mural design but upon its completion she invited the children to put their handprint on the mural. The response was overwhelming as the line of children waiting to participate stretched across the soccer plaza.
Dedication ceremony with the children from the Escuela Pacifica Fernandez
The children chose the color for their handprint and the location within the mural to put it. The muralists helped paint their hands and lift them up to touch the mural. In the end over 60 children's handprints adorn the mural.
"We are going to come back in ten years and see our handprints on this art!" one child shouted out to another. Ms. Snyder loves that the children now feel part of the project. She also uses conversation about the mural to educate her students, family members and other people back in the US. "We share a lot about Costa Rica culture with kids who may be more privileged and may take many things in their lives for granted. It's good for them to recognize how other kids live and how the world is beyond their communities and also for them to give something back to a community that they are not directly involved in and to realize the positive impact that that can have."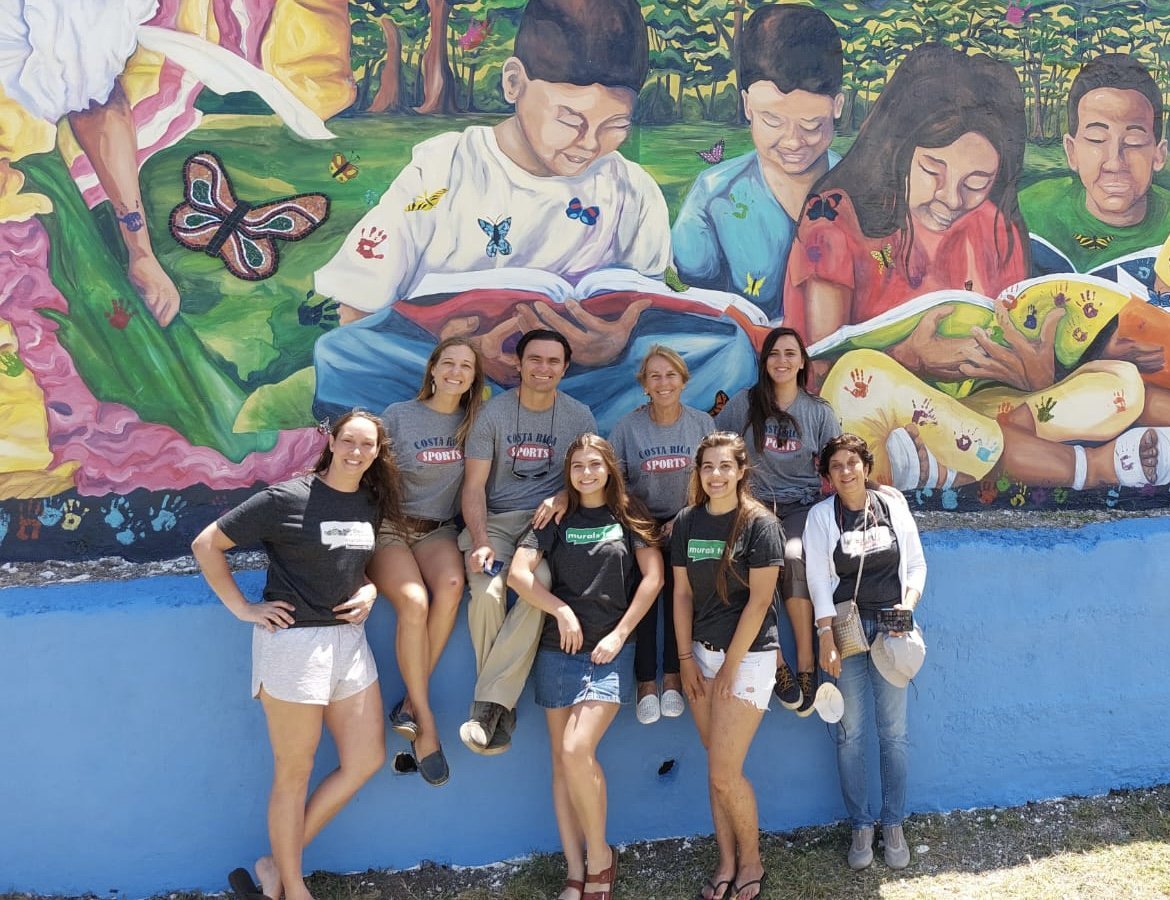 2022 Team: Front row: Pam Snyder-Etters, Cierra, Leah, Anju Back row: Shanthi, Randall, Guiselle, Lilliana Not pictured: Teresa, Sue
2020 Team: Left to right: Barbara, Anju, Kirsten, Pam, Bob, Cathy, Dawn
Costa Rica Soccer Tours is proud to have been able to assist Ms. Snyder and her group, Murals Talk, in turning this mural into a reality in Costa Rica. We have loved organizing soccer tours for her Penn State Altoona college team in 2009, 2014, and 2019 and involving community service projects of different sizes and scope each time. We are so grateful for our friendship with Ms. Synder and we are so appreciative of all that she has given back. We look forward to hosting Ms. Snyder and her club team in June 2022 when they will travel down to Costa Rica again. We are excited for her new team to visit the mural and see the impact that it has had on the community.
The public work of art is a symbol of hope. We share in the hope that Xiomara Quiros so eloquently expressed in her dedication speech, "It demonstrates to the world that when countries and communities join together that instead of war we can achieve love, fraternity and friendship. This mural will beautify our community plaza and our hope is that many generations will see it, enjoy it, and be inspired by it. Let us care for this work of art with pride and unity and may it reflect a union between two countries and two cultures."