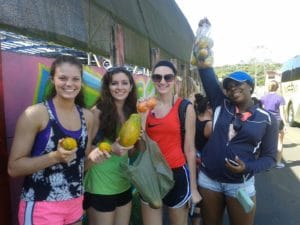 Costa Rica is known for many wonderful things. At the top of their list is the incredible variety of soccer superfoods. It's no wonder so many Costa Ricans excel at the sport!
There is a wide array of fresh foods available to refuel players after their training sessions and games. In Costa Rica, these superfoods aren't purchased at a health food store – they can be found everywhere! From the corner convenience store to the farmers' markets our teams frequent, there is a limitless supply of healthy snack options to choose from (check out a video of a team visiting a farmers' market here).
From actual superfoods to other healthy treats, here are some of our visiting teams' favorites.
1. Coconut Water
Sometimes pricey outside of the tropics, coconuts are everywhere you look in Costa Rica – literally, if you're at the beach! While scientists are still debating the pros and cons of using coconut oil, refreshing coconut water ("agua de pipa" in Costa Rica) is a natural godsend for thirsty soccer players, packed with electrolytes such as magnesium and potassium.
2. Cacao
Yup – Costa Rican chocolate is some of the best in the world, and it's readily available in its purest, healthiest forms as well. At many spots where "batidos" – or fruit smoothies – are sold around the country, you can add cacao nibs or pure ground cacao for an antioxidant boost.
3. Noni
All right, we'll be honest: this is not among the list of favorites that our teams enjoy, but it earns its place on this list because it reigns over many Costa Rican superfood studies. The bitter-tasting green fruit is packed with more than 100 phytochemicals; according to the National Institutes of Health, it has shown immune-boosting and tumor-fighting properties, and continues to be studied for more. Keep an eye out for this at the farmers' market.
4. Pineapple, Bananas, Papaya, Mango…
The fresh fruits of Costa Rica simply cannot be beat. You haven't truly eaten a pineapple until you've let the fresh juice of a just-picked Costa Rican pineapple run down your chin. During a Costa Rica Soccer Tour, these fruits and more are on your plate at breakfast, offered as a snack, or whipped up into the greatest smoothies of your life.
5. Rice & Beans
Yes, Costa Ricans will joyfully eat rice and beans for breakfast, lunch, and dinner, if they get the chance – and our visiting athletes love it, too. So do their bodies, since black beans are a low-energy dense food full of phytonutrients, protein, fiber, folic acid, magnesium, potassium and iron. Plus, there's just nothing quite so delicious for breakfast as a plate of gallo pinto (you guessed it: rice and beans) with an egg, fresh fruit and the best coffee in the world.
We'd tell you more about Costa Rica's finest foods, but this made us hungry. Come on down and save your appetite for some of the freshest, healthiest treats on Earth!
Click here to book your team's trip with Costa Rica Soccer Tours.